Take Action
COP26
Sign the GASP letter as shown below and send it to Justin Trudeau – we have made it easy for you with the link below: 
With the help of a fellow activist group – Wellington Water Watchers – GASP has created a simple email petition asking Justin Trudeau to attend COP26 in Glasgow with an ambitious, detailed plan demonstrating how Canada will meet its greenhouse gas emissions targets. This is a critical time for climate action.
The path our leaders collectively choose at COP26 will make the planet livable or lead us into catastrophe. Can you please take a moment to fill in this quick petition:
https://nwmd.io/s/email/ZhQ_BDjEHPThQG-hLbE=/r
Thank you on behalf of the future generation!
Letter to Prime Minister Justin Trudeau sent on October 14, 2021
GASPs gathered last week for the first time since COVID began with a special message" – https://www.youtube.com/watch?v=buJF6tw1oaM
Our current "hot button" issues are:
1. Ontario Climate Watch
GASP has prepared an Anti-Sprawl Toolkit – April 13, 2021  to help cities fight for hard urban boundaries. The Toolkit provides a wide variety of resources and documents that will educate you on why land use planning is important and why urban sprawl is so costly in terms of increased taxes for infrastructure maintenance, greenhouse gas emissions and climate change.
In December our Ford Watch team pivoted to looking at local ways to watch for Ministry Zoning Orders and to forge relationships with local municipal councillors. We soon learned about Councillor Fogal's motion in Halton Hills. When she won unanimously there, we started working to support the motion in the whole region.
In one week GASP members responded to the urgent "Call to Action" to support Councillor Fogal's motion to delay the Regional Official Plan Review. The motion was passed unanimously at the Halton Regional Council meeting on February 17. This provides us an 'opportunity' to gain a better understanding of the many detrimental impacts of Sprawl on Climate Mitigation. This success could not have happened without the" Nimble & Quick" responses by the many GASPs who made phone calls, wrote letters and emails to dozens of municipal councillors. Three GASP delegates, Lorraine, Daisy & Dorothy, made excellent compelling presentations to Halton Regional Council. To view Councillor Fogal's inspirational presentation
Amendment #1 to the Places to Grow Act and the Provincial Policy Statement  – excerpts of Councillor Fogal's article
A Sprawling Disaster – Doug Ford's Plan for Ontario
The Places to Grow Act and the Provincial Policy Statement (PPS) work together to help municipalities build complete healthy communities. The Ford government has changed a number of important regulations through introduction of Amendment #1 and amendments to the PPS.
Changes that will promote sprawl include:
The Amendment stipulates minimum population growth goals but removed maximums meaning that developers can push for greater population increases.
Density goals have been reduced meaning there can be more single family dwellings ie sprawl.'Market Demand' was explicitly added as justification for planning the housing mix. Since we know there is a demand for single family dwellings, the developers will argue for it based on the market. Expect more sprawl.
The planning horizon has been moved out to 2051. This means that today's municipal councils must approve plans to accommodate population growth to 2051. It pushes designating rural land now to provide housing up to 30 years into the future. The net result is that developers who have speculated on future development lands don't have to wait 20 years to get permission to build. They get permission for all of the land required for 30 years of housing development now.
The deadline for municipalities to approve their 30-year plan is summer 2022, conveniently before the next provincial election. Should Ford lose the election, it doesn't matter. The land will have been approved for development and cancelling approved land has never been done before.
 Public input into planning for the next 30 years is scheduled to happen during the pandemic when it is impossible to hold in-person public meetings or workshops.
What can we do about it?
#1 Municipalities should refuse to meet the timetable set out to be compliant with the Places to Grow Act.
There is no reason to rush to identify lands that won't be available for 10 more years at a minimum.  Planning anything this big should wait until after the pandemic and should be after the next provincial election. The people of Ontario deserve an opportunity to understand what is being proposed and an opportunity to say how their communities will grow.
#2 Municipalities should refuse to open up their urban boundaries at this time.
Although making the boundaries permanently fixed is the best solution, they are always open to review by future councils. Developers won't like that so they will appeal the decision. The appeal process will take months to sort out by which time the election will have taken place and perhaps sanity will return with a new government.
#3 People can lobby their MPP's and tell them that this is not what they voted for.
Protests such as we saw regarding the 413 highway actually work. The uproar over Ford telling developers he would open up the Greenbelt for development blew up and he walked that idea back.
#4 To address the problem of affordability which Ford said was the impetus for the planning act changes, municipalities should demand that all subdivision plans include 10% affordable units that will be available for the municipality to purchase.
The municipality can then require that these units be built to the highest energy efficiency level. Upon purchase the municipality would rent the affordable units at rates to pay for the carrying cost. Cost of the added energy upgrades would be offset by the reduced energy cost. The net result would be a guaranteed increase in rental properties and increased energy efficiency in the housing stock. It would also contribute to achieving a complete community with a mix of housing types and affordability.
Municipalities Need to Unite against Ford's Firehose of Land Use Changes
"The most powerful mechanism municipalities have is land use planning. Land use planning locks in patterns of a lot of emissions or patterns of very little emissions." Read article by Michelle Silverton Tom.
Find out more about Ford's two proposed highways. Click on link Ontario – yours to protect or yours to grow?
Ford Government's Destructive Track Record on the Environment
The Ford Government has become an 'obstacle' to climate change progress, spending $30 million in 2019 to fight the federal carbon price in court. In April 2020, citing COVID-19, Ford suspended environmental protections. GASP, along with many other environmental groups, wrote to the government that these protections be restored. In June 2020, Ford reversed his decision.
Since Ford took office, Ontario has cancelled 227 clean energy projects, wound down conservation programs, weakened endangered species protections and has taken away powers from the province's environmental commissioner. The commissioner is meant to hold the government accountable. With such a history, GASP found it necessary to keep a close watch on Ford.
In November 2020, the government slipped in drastic changes to its omnibus budget Bill 229. This Bill limits the role of conservation authorities in the development approval process by allowing government ministers to issue permits (MZOs) for development on environmentally sensitive lands. It also allows ministers to override decisions made by authorities to restrict development. Government actions are undermining watershed planning. They are also putting  our natural heritage and the future of the Greenbelt at risk.
Links for immediate action:
"We need to watch for MZO's like a hawk" and tell our local politicians that we don't want them" (David Crombie)

2. Banks
Excerpts of Kathleen Moleski's Letter to the Editor –

To read the full article
Earth Day 2021 Bank Campaign – Letters to the Editor from GASP founders – Carole Holmes and Lorraine Green

Update April 2021 – Lorraine Green's Op-Ed letter to RBC was published by one of our partner organizations in Ottawa – below2c.org   The first part of her letter is shown below. To read her  full Op-Ed – https://below2c.org/2021/04/when-will-my-bank-rbc-divest-from-fossil-fuels/
Burning fossil fuels – coal, oil, and natural gas – is the main driver of the global climate crisis. In the four-year period (2016-2019), since the Paris Accord, 35 banks have funneled (US) $2.7 Trillion into existing and new fossil fuel projects. Canada's Big Five Banks are among the worst offenders. Of the "dirty dozen" banks, RBC and TD rank #5 and #8, so we have focused our campaign on them. Download a copy of The 2020 Banking on Climate Change report here www.ran.org/bankingonclimatechange2020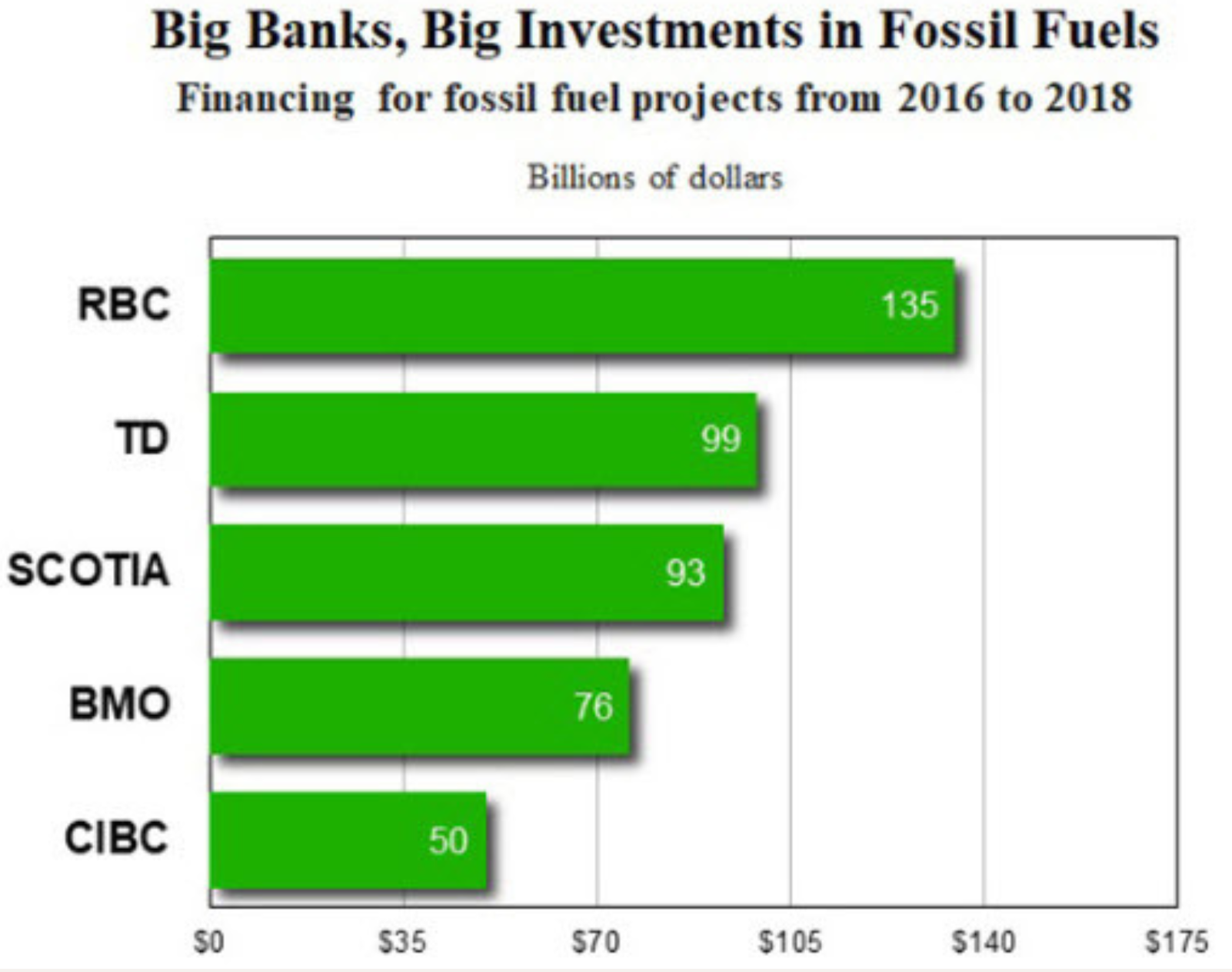 We are asking RBC and TD to disclose timelines and transparent plans for stopping funding of fossil fuel projects, sacrificing our climate to make a profit and our grandchildren's futures. Letters have been sent to both CEO's, plus their Board of Directors. Just recently, over 925 postcards have been mailed to RBC and TD branches.

Link for immediate action:
3. Pension Plans
Engaging with your pension plan is an effective way to create systemic change to protect our climate and your retirement.
Link for immediate action:
SHIFT – Action for Pension Wealth and Planet Health www.shiftaction.ca
4. Guaranteed Livable Income
Why Guaranteed Livable Basic Income? Currently Canada, the Provinces and Territories have a patchwork of services to meet the needs of citizens that are often hard to apply for, hard to understand and fall short of providing enough money to meet the needs of families and individuals. GLI will be part of a robust system of social spending and programs including health care, mental health care, pharmacare, childcare, and education.  As well, it will strengthen labour and housing rights and regulations to ensure fair wages, benefits and access to affordable housing. The end result will be improved mental and physical health, stronger and more resilient communities and better economic outcomes without reducing the amount of work people are prepared to do. Canada already has some programs like this – Old Age Security and Guaranteed Income Supplement for low-income seniors. GLI will be able to be rolled out in similar fashion.
The House of Commons has not yet voted on MP Leah Gazan's Motion 46, calling for a Guaranteed Livable Basic Income program in Canada. This will happen sometime in the New Year.
Links for immediate action:
Watch May 25, 2021 GASP meeting with Julie Dzerowicz, M.P. for Davenport to discuss the issue of a guaranteed basic income.
GASP webinar, November 12,  2020, with MP Leah Gazan, former Senator Hugh Segal, and Tom Cooper, Hamilton Roundtable
"A Federal Basic Income Within the Post COVID -19 Economic Recovery Plan", by Hugh Segal, Evelyn Forget, Keith Banting, 2020. Read here